One of the cutest movies of the czech kinematography from the 70's / 80's is
Zítra vstanu a opařím se čajem
(Tomorrow i wake up and will get scalded by a tea;
imdb link
). It's a science fiction comedy with time travel into the WWII where a part of the story is going on in the 90's, where the time machines are a routine offering of travel agencies.
Several times a Saab 96 V4 appears in a scene which is repeating itself. This one :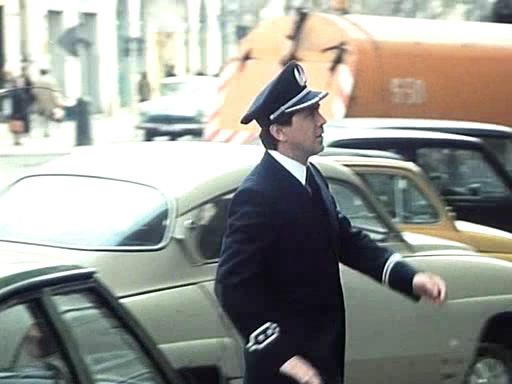 Saab 96 in Zítra vstanu a opařím se čajem, source : imcdb.org
The scene appears also on a youtube video cutout :
It never appears in action, it's only parking but since the scene repeated 4-5 times, the Saab was quite often there :)
The main double role of the guy in the uniform was played by a Petr Kostka.
Btw, there is an interesting discussion below the picture on
imcdb
. In the former Eastern Europe behind the iron courtain the Saab 96, besides other cars, was sold in specialised shops for western goods for surreal money. For example the price for Saab 96/96 started at 125.000 CZK, which is more or less the same in EUR today (+/- 20% but no more). The same or a bit higher price was asked for Saab 99. Therefore not many pieces were imported, but there were still some in the streets. And they still are.
sources :
imdb
,
imcdb
, czechoslovak TV from the past